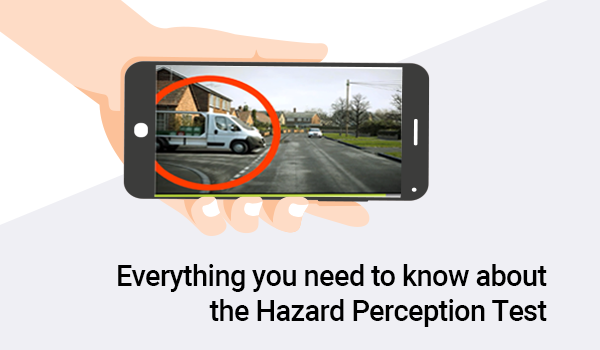 As a new learner driver you might not know that the Theory Test is split into two sections; Multiple Choice and Hazard Perception. 
The Hazard perception test evaluates how well a learner driver is able to spot and react to a hazardous situation. Detecting a potential hazard early enough helps prevent road accidents and save lives.
Here are some frequently asked questions that learner drivers have about the Hazard Perception Test:
When do I sit the Hazard Perception Test?
If you are a car driver or a learner motorcyclist, you will sit both tests on the same day. You will begin with the multiple choice questions and once that has been completed, you will move on to the Hazard Perception. 
To pass both parts of the test, you will need 43/50 in the multiple choice exam and 44/75 in the hazard perception section. 
Do I have to have had driving lessons to be able to sit my Theory Test?
No, you can sit your Theory Test whenever you like, as long as you're 17 or older and have a Provisional License. 
It is worth noting your Theory Test certificate lasts for two years, so if you don't plan to learn to drive for a couple of years then it might be worth sitting the Theory Test at a later point, to avoid it expiring and wasting your money. 
Where do I click on the test?
You don't have to click on the hazard itself. All you have to do is click the mouse and you will see a small red flag appear at the bottom of the screen. 
How many clips are there?
In total there are 14 videos that you will watch. 
How many hazards do you get scored on?
There are 15 hazards you will be scored on. 
What are the max points you can get for each video?
The maximum that you can score per clip is five points. Please note that there will be one clip in the test that will contain two hazards, so your total for this video will be 10. 
Can I be accused of cheating?
Yes, if you click too many times. The test has a built-in cheat detection system, so don't get click happy. 
When do I click?
Click as soon as you see a developing hazard. The earlier you click, the more points you'll score. If the hazard changes or gets more dangerous, click again. 
How can I pass?
The Complete Theory Test Kit App provides 300 Hazard Perception clips that accurately simulate the official DVSA Test. 
Each clip can be reviewed so you can learn how they develop and how you can achieve the maximum score. 
You can download The Complete Theory Test kit App for FREE and access ALL the CONTENT for FREE for THREE days, after this period you can continue to use the App for £4.99 a month or cancel before the subscription begins.  Visit the App store here.