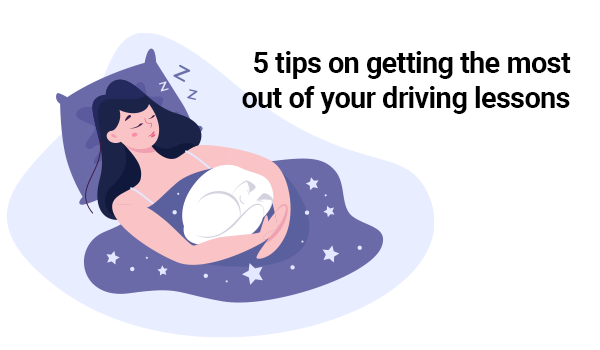 Here's our five top tips on how to get the most from your driving lessons!
Sleep!
Getting an early night the evening before your lesson is a must. A night at the pub before a morning lesson is never a good idea. Be 100% alert and sober. 
Fill your tank.
Don't do a driving 
lesson on an empty stomach. Boost your energy levels with a snack if necessary. Being hungry or thirsty can be a distraction! Feel free to take a bottle of water with you for your lessons – but remember you must be stationary to consume!
Be money smart.
When you book in with your instructor, try and go for longer lessons. Sometimes, just one hour isn't long enough for you to relax and drive to your best potential. Having 90-minute or two-hour lessons will have you feeling settled and confident and it also means you'll be able to travel further, covering more test routes. All this will mean you're making the most of the lesson and getting the most out of your money. 
Take note.
Your instructor is the professional; listen to what they are saying. If you struggle to take in what they're explaining to you whilst you are driving, ask to pull up in a safe space and have them talk it through then instead. 
Ask away!
Don't just nod along, (we have all been guilty of it) if you don't understand something that your instructor is showing or telling you, tell them! Being honest is essential, otherwise, you'll never learn from their feedback. 
Some learners don't naturally gel with their instructors. If you feel your lessons are going nowhere, be open to your instructor about it. And if things don't improve, then look into changing. There is nothing wrong with it!
Remember, if you have passed your Theory Test, it doesn't mean you can forget everything you've learned! In your lessons, you'll need to apply that knowledge to real life driving. Keep refreshing your memory with the app until you actually pass. 
You can download The Complete Theory Test kit App for FREE and access ALL the CONTENT for FREE for THREE days, after this period you can continue to use the App for £4.99 a month or cancel before the subscription begins.  Visit the App store here.