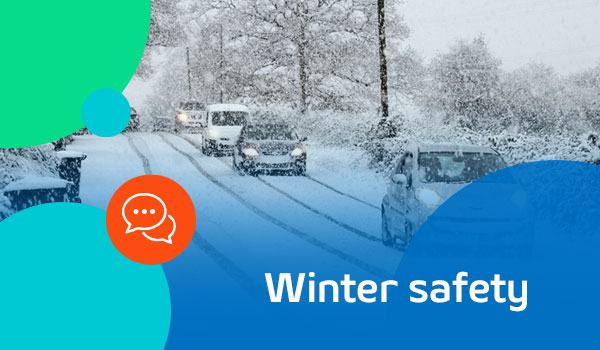 Winter driving can create all kinds of hazards and challenges. From dark nights, heavy downfalls, prolonged periods of heavy snow and floods, icy roads and frozen fog. One single road journey can take us into very different weather, road and traffic conditions, so we need to be prepared for each one and adapt the way we drive to the conditions.
In very bad conditions, avoid driving completely, unless you absolutely have to make the journey and driving is the only option.
If you do need to make the journey then here are our top tips for staying safe.
Plan your journey. Be aware of the roads you'll be travelling of – country roads have less traffic and could therefore be more icy than main roads, and plan for alternative roads or routes you could take.
Ensure you have the correct items in your emergency breakdown kit:
ice scraper and de-icer
torch with spare batteries
warm clothes and blanket
high vis jacket
boots with a good grip
first aid kit
jump start cables
empty fuel can
food and drink
shovel
two reflective warning signs
atlas
sunglasses
in-car phone charger and portable charger
locking wheel nut key
Make sure you complete essential vehicle checks. Ensure you have enough fuel for your journey and that oil and coolant levels are topped up. Check your tyres for pressure and tread and that all lights are working properly.
Top up the Screen wash –  it's also a good idea to take some spare windscreen washer fluid in case driving conditions mean the screen needs clearing more than usual.
Winter weather can have a serious effect on a car's health, increasing your chances of a breakdown and leaving you exposed to harsher conditions – so it is important that you drive prepared. It's also worth considering breakdown cover. To find the right cover for you check out Confused.com or Compare the Market.
Not passed your Theory Test yet? You can download The Complete Theory Test kit App for FREE and access ALL the CONTENT for FREE for THREE days, after this period you can continue to use the App for £4.99 a month or cancel before the subscription begins.  Visit the App store here.