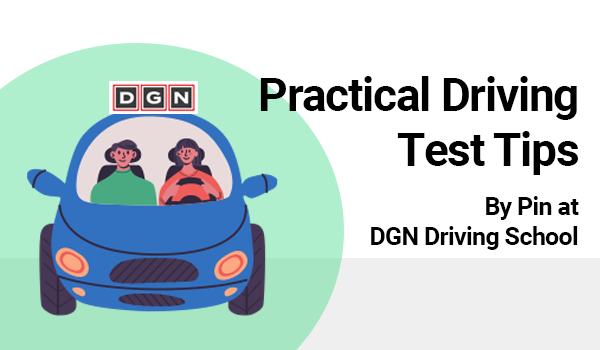 Essential Tips for the Practical Driving Test
Taking the Practical Driving Test can be nerve wracking, so we've teamed up with Pin from DGN Driving to help you prepare for the big day.
What to bring on the day:
On the day of your Driving Test you must bring with you
Your photocard provisional licence.  If you have an old-style paper licence, you must take your signed driving licence and you must also bring a valid passport. Please note that no other form of photographic identification will be accepted. 
You must also bring an appropriately insured and licensed vehicle suitable for the test. 
Most learners take their test in their driving instructors car, but if you choose to do the test in your own vehicle it must meet certain requirements such as:
Being roadworthy

Having L-plates fitted front and rear ('D' plates in Wales)

Have no tyre damage and meet the legal tread depth on each tyre

Be fitted with an extra interior rear-view mirror for the examiner
For a full list of rules about taking your own vehicle to the Driving Test visit the Government site here.
At the start of your practical driving test you will have to correctly read a number plate on a parked vehicle 20m away. If you can't, you'll fail your driving test and the test will not continue. Therefore if you require glasses or contact lenses to meet the legal requirement it is essential you bring them to your test.
What to do BEFORE the Practical Driving Test
Know Where You're Going
Ensure you know where you're going! Make sure you have the correct address for the Test Centre and that you know where it is and how to get to it. Plan your route and do a 'dummy-run' there to ensure you know your way. 
Allow Plenty of Time
Give yourself plenty of time to get there. Arrive 10-20 minutes before the test and allow time for any traffic or incidents that could prolong your journey. Arriving early will give you time to compose yourself and calm any Driving Test nerves before it starts. 
Have a Lesson
Book a lesson before your test and it will help you to practise any areas you're worried about and you'll be able to settle your nerves so that by the time the examiner is in the car with you you'll be much calmer.
Eat
Don't go to the test hungry. Make sure you have breakfast if you have a morning appointment and have lunch if it's in the afternoon. It will help fuel your body and your brain and improve concentration (and stop you from being distracted by a rumbling tummy!). 
Sleep
Ensure you have an early night the evening before and that you're well rested. A night out before your practical driving test is never a good idea. Be 100% alert and sober. 
If you're just starting out with practical lessons and want some help to feel more knowledgeable and confident check out the Ultimate Driving Course from DGN Driving.
If you haven't passed your Theory Test yet download The Complete Theory Test kit App here.