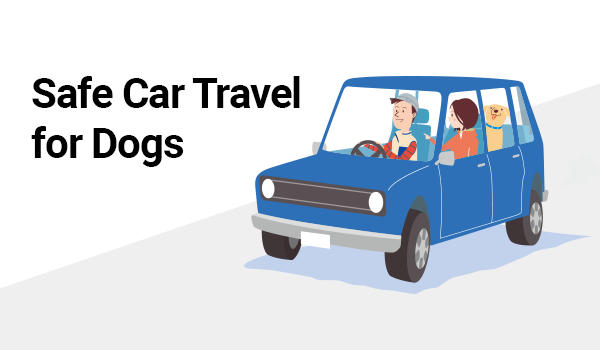 how to Keep your dog safe when driving
Why Do Dogs Need to be Secured in the Car?
Keeping your dog secure when driving not only keeps your pet safe in the car but it is also a legal requirement. Rule 57 of The Highway Code states that you must  "make sure dogs or other animals are suitably restrained" in a vehicle.
If you don't follow the Highway Code, you could be considered to be driving without due care and attention. If you're in an accident because you were distracted by your pet, this could be counted as dangerous driving.
As well as keeping within the Law, it is important to keep your dog secure with a pet seatbelt or carrier to; stop them from distracting you while driving, to stop them from getting in the way of the steering wheel or brake pedal, and to stop them from seriously hurting you and your passengers if you did have an accident.
Finally, a lot of car insurance policies require you to restrain your pets properly. A loose pet in the car could break the terms of your insurance and leave you with a big bill to pay if you're in an accident. And it may also invalidate your pet insurance they are injured and need treatment.
How to Secure Your Pet in the car
A dog crate is the safest and most comfortable way to transport your dog in the car. And if your dog is already acclimatised to a large crate through in-house training, this will also be one of the least stressful ways to transport it. A good crate offers a dog a decent amount of space to sit or lie down in and should the worst happen, and you have an accident, a crate will stop the dog being violently thrown around the cabin.
Another option is a Dog Harness. There are harnesses to fit all sizes of dog, and they should be multi-adjustable. Good ones will also have a grab handle to allow you to more easily control your dog when putting it into the vehicle or manoeuvring it into position on the seat. It fits around your dog, and is then clipped to a rear-seat seatbelt. If you want to clip it to the seatbelt on the front passenger seat, you'll first need to disable the passenger airbag, because this could do your dog serious harm in a crash.
Some dogs simply prefer to sit in the car's boot, and if that applies to your pet then you would be wise to fit a guard between the back seat and the boot area to stop your dog from being able to leap over the back seat and into the cabin area. It would still be advisable to combine the use of a dog guard with a dog car harness or dog crate to minimise the amount they'll be moved around should you be in an accident.
If you're planning on taking your dog on a car journey you need to make sure the dog is as comfortable and relaxed as possible because they're going to be restrained and they might not be entirely happy about it!
To avoid inducing road sickness try not to feed the dog less than two hours before you hit the road. However, make sure your dog isn't thirsty as this could also induce illness.
Not passed your Theory Test yet? You can download The Complete Theory Test kit App for FREE .  Visit the App store here.