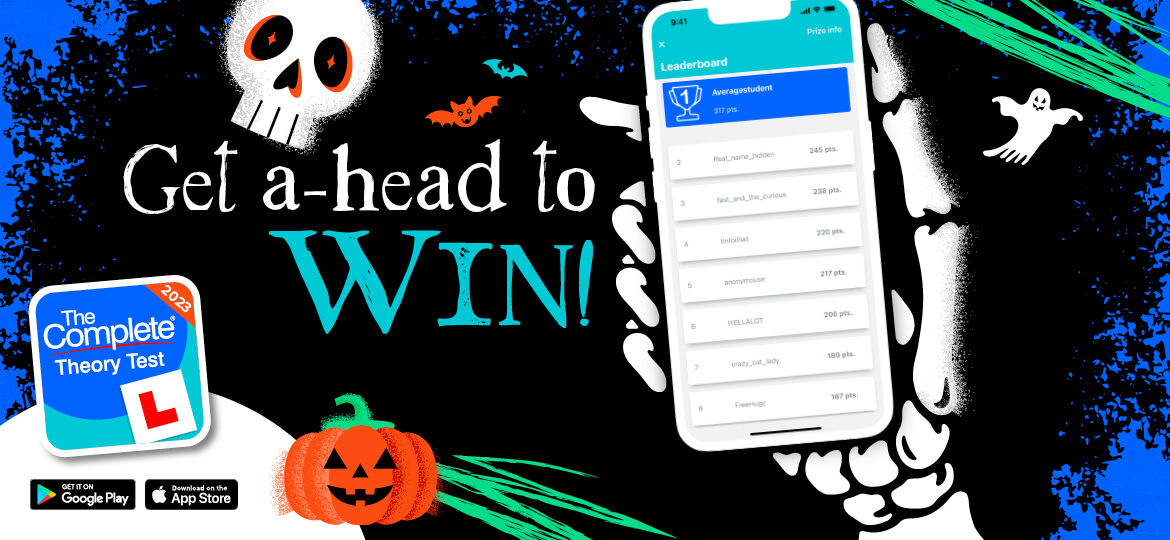 Don't freak out, we've a monster challenge to help you pass the Theory Test and WIN treats!
There are no TRICKS to passing the Theory Test but there are TREATS for revising, practicing mock tests and getting a-head in our Leaderboard!
Our next Leaderboard challenge is giving you the chance to win a monster prize of £100 for 1st place, £50 for 2nd and £25 for 3rd. Our App has a 'skele-tonne' of info to help you revise and pass the Theory Test, including:
All the latest DVSA questions, answers & explanations
Unlimited mock tests
Over 300 Hazard Perception clips and CGIs
Road Signs
Highway Code
Plus, our intelligent learning programme will help guide you to a first time pass!
Our monster leaderboard challenge begins at 8pm on 31st October and to be in with a chance of being a bone-a-fied contender simply:
Revise, practice, complete Mock Tests
The more questions you answer correctly in practice sessions & mock tests, the more points you'll earn and the higher up the Leaderboard you'll climb. The top three winners at the end of the contest will be awarded their prize.
Download The Complete Theory Test kit App here.